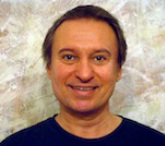 BOB CHAPRA has the longest continuous private practice of The Feldenkrais Method in Philadelphia. A Certified Feldenkrais Practitioner since 1977, he was among the first Americans to become part of the very select group that received advanced training directly from the late Dr. Moshe Feldenkrais.

Bob and the Healing Arts
He has presented in-service courses at Thomas Jefferson University Hospital, Doylestown Hospital, Albert Einstein Medical Center and Moss Rehab. Bob has worked with a wide variety of clients including those with chronic back pain, tmj, thoracic outlet syndrome, parkinson's disease, cerebral palsy, stroke, balance difficulties and breathing problems. Feldenkrais work offers no cures but awakens an intelligent connection to movement that can aid one's ability to heal.

Bob and the Performing Arts
Some of learning institutions where Bob has lectured or taught include : State University of New York at Purchase, Villanova University, the Wilma Theater, the George Morrisson Acting Studio, the Sportsaaschule in Köln, Germany, University of Sao Paulo and the New York Open Center. Bob co-taught voice and movement workshops with Chuck Jones, author of Make Your Voice Heard, and with actor Richard Fancy. Some of Bob's students have included the late Clyde Vinson, New York voice coach for The Royal Shakespeare Company, Andre Bernard, author of Ideokinesesis as well as actor Stanley Tucci and singer Juan Diego Flores. In addition, he has taught the Feldenkrais Method® for the prestigious Opera and Voice Department of The Curtis Institute of Music from 1994-2006, and was an eight time presenter for the Voice Foundation's Annual International Symposium.


In addition to offering workshops, he has a private practices in both Chestnut Hill and Center City Philadelphia. He also offers Master Classes and in service courses.